CCDF 2025-27 State Plan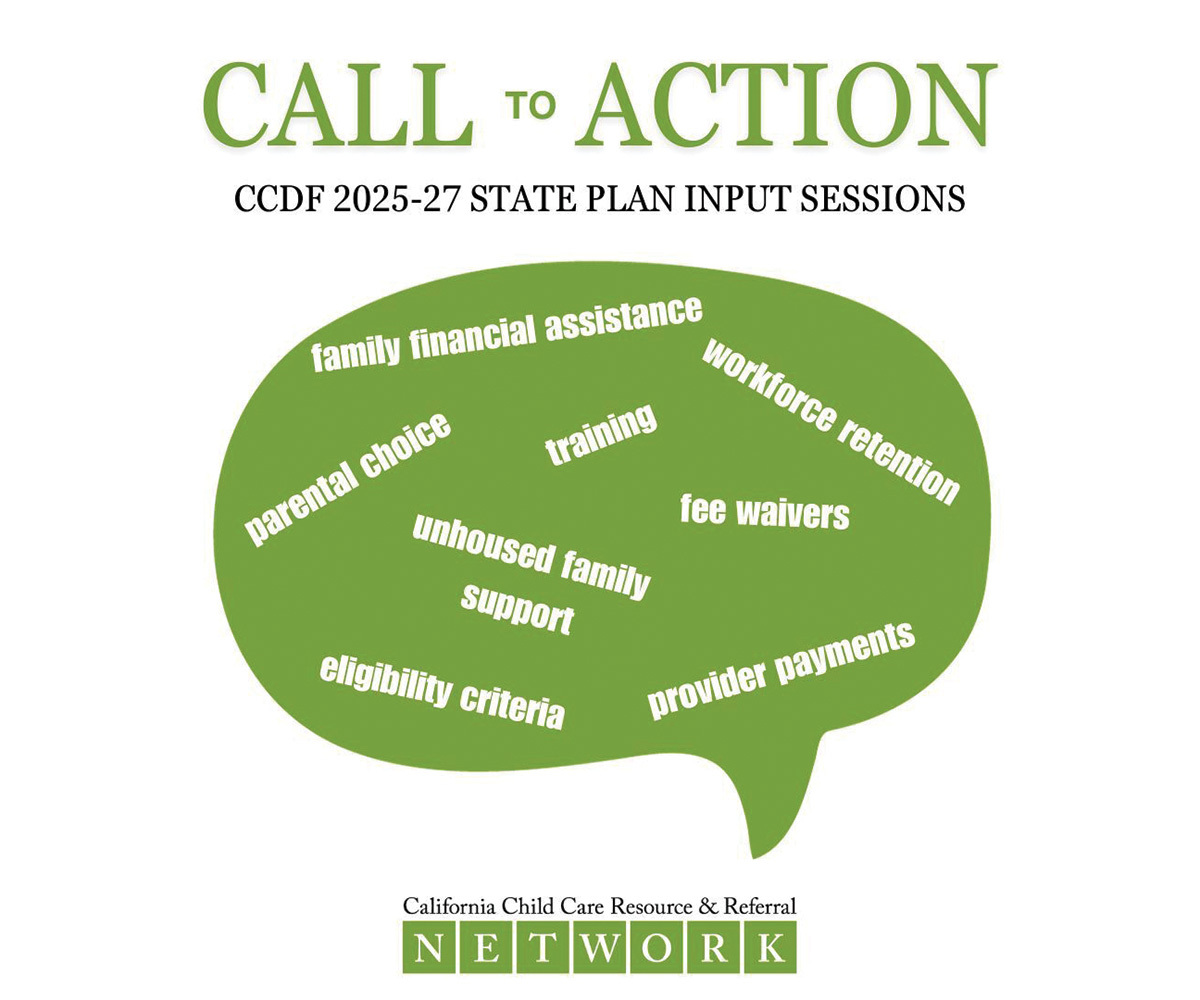 What is the CCDF State Plan?

Every 3 years, the Child Care and Development Fund (CCDF) program undertakes a planning process to determine how federal funds will be used to provide financial support for child care access to families in need. The CCDF Program is authorized under the Child Care Development Block Grant Act (CCDBG) and administered by the State of California. To gather input in preparation for the next formal application deadline in June 2024, the California Department of Social Services (CDSS) is hosting a series of statewide public input sessions.
Remaining sessions:

Wednesday, November 29, 2023 – SACRAMENTO

10:00 a.m. - 12:00 p.m.

CDSS Headquarters in downtown Sacramento, 744 P Street, Sacramento, CA 95814

RSVP required (1-2 people per agency). Send your full names, organization, email address and session location/date to STATEPLN@dss.ca.gov.

Thursday, December 7, 2023 – VIRTUAL

10:00 a.m. -12:00 p.m.

Virtual session via ZOOM: register here
How Can R&Rs Influence the State Plan? Talking Points for California State Plan Input Sessions

Here at the R&R Network, we are coordinating across departments and programs to offer technical and messaging support for member agencies to lift their voices in these sessions.

*On November 21st, the Network hosted a Member Webinar to prepare for the Sacramento and/or Virtual session. Important details were shared about this opportunity to influence how federal funds will be distributed in California.*
(Note: This meeting was open to all current R&R Network members.)


Talking Points for California State Plan Input Sessions

The Network has prepared Talking Points for California State Plan Input Sessions. The Talking Points can be accessed here.

This is a link to the CCDF Pre-Print for Federal Fiscal Year 2025. The pre-print is the template of questions that each state must answer and submit for approval of how they plan to use their federal funds. These questions may change in Spring 2024 as a result of the National Proposed Rule Making (NPRM) -- proposed changes that were circulated and which we all commented on late Summer. The federal government will likely incporate many of the proposed new rules into the Pre-Print in Spring, so the Sections will likely change a tad from this version's link. The Network's recommendations and Talking Points for the current Plan input sessions correspond to the linked Pre-print.

What is the R&R Network Doing?


Network staff will attend to contribute a statewide R&R perspective at every Input Session. Member Services Director Kelly Graesch commented at the October 16 meeting in Fresno and Executive Director Linda Asato commented at the Redding session on November 8. Child Care Initiative Project (CCIP) Manager Carolina Castillo Quintero will be present at Riverside and Provider Services Director Domenica Marquez will comment at the Sacramento meeting. If you see them, please say hello!

Questions about the upcoming member meeting on 11/21? Reach out to Member Services Director Kelly Graesch.
Questions about the 11/29 or 12/7 input sessions? Contact Public Policy Director Menaka Mahajan.
Additional Resources from the Child Care Technical Assistance Network: Coordination Child Care Resource and Referral Systems, History and Purposes of CCDBG and CCDF, Additional Consumer and Provider Education Information Requirements