Our policy team takes positions on legislation and budget decisions that impact children, families, and the child care system. We work collaboratively to inform policymakers of the impact of legislative and budget decisions on working families. Often, we will provide testimony and send letters of support or opposition.
Governor Newsom Releases FY21 Proposed Budget
Governor Newsom's latest budget proposal continues to illustrate his desire to positively impact the lives of California's children and their families. Like his first budget, included is a section on early childhood, touching on various issues that impact the livelihoods of children. We applaud this continued momentum towards lifting children and their families out of poverty, and improving the social, emotional, physical and economic environments of families who are struggling. In summary, the $22.2 billion budget proposes:
Child Care Access

$31.9 million FY 20-21 and $127 million ongoing General Fund to fund 10,000 additional preschool slots at non LEAs beginning April 1, 2021 towards the goal of universal preschool for all income-eligible four-year-olds;
An additional $10.3 million towards a little over 600 general child care slots, from Prop 64 (cannabis) funds;
$53.8 million General Fund to reflect changes in CalWORKs caseload - projecting a decrease in Stage 2 and increase in Stage 3;
Wellness
$10 million one-time General Fund for the development of an adverse childhood experiences cross-sector training program accredited by the Office of the Surgeon General, in addition to a statewide public education campaign on adverse childhood experiences;
Paid Family Leave job protections and resources to support small business that extend PFL benefits to their employees;
Continued implementation and promotion of Child Savings Accounts;
Financial Support
3.1% increase to CalWORKs grants effective October 1, 2020 estimated at $76.3 million in FY20-21 and $98.1 million FY 21-22 funded by the Child Poverty and Family Supplemental Support Subaccounts of the local Revenue Fund;
Extending the tax exemption on diapers and menstrual products by an additional 18 months;
An increase of $21.6 million for the Cal Grant Access Awards for Student Parents, reflecting an expected increase of recipients.
Facilities
$75 million General Fund to expand the Inclusive Early Education Expansion Program for LEAs to construct or modify preschool facilities to serve students with exceptional needs or severe disabilities
Establish the new Department of Early Childhood Development:
$8.5 million to fund the transition to establish the Department of Early Childhood Development under Health and Human Services Agency to include:
o Early Childhood Policy Council
o CalWORKs child care (all stages)
o Voucher based programs
o Direct contract programs
o Head Start and Early Head Start
o Early education data system
o Emergency child care bridge program (yes, the foster care bridge)
o Child care quality programs
This proposal would take the above programs that currently are administered by the California Department of Education, and shift them to a new department at the California Health and Human Services Agency. This is a bold move that recognized that an early childhood system of support is more complex than simply looking at the traditional approach to child care and early care and education.
We believe strongly that a systems change like this requires consistent, broad stakeholder input which must be incorporated into the design and definition of shared outcomes we all seek--doing whatever is best for children and their families. This includes taking a human centered design approach to making a system that is easy to access for end users, and makes sense for providers of services so they too can focus on the services and supports of end users. Simultaneously, we must honor the best practices and positive programs that continue to make a difference for children and families. Thus, practitioners, consumers, service providers and advocates all need to be included in this transition from the inception, and adequate time and support given to ensure this important cultural and system shift can take place thoughtfully.

We stand ready to engage and assist to see that we all co-create a system that ensures that all families have access to quality early care and learning and support services that meet the diverse needs of California's families.
New Laws for 2020

AB 2370: As of January 1, 2020, child care centers constructed before January 1, 2010, will be required to test their water for lead by January 1, 2023, and every 5 years after the initial testing date. Child care centers that serve majority of children with subsidized care who are infants and toddlers will have priority in receiving a grant to pay for lead testing and any remediation that may be required. This law does not apply to Family Child Care Homes.
SB 234 (Keep Kids Close to Home Act, Skinner): As of January 1, 2020, several barriers to opening or expanding family child care homes will be removed statewide.
Nearly 40 years ago, California recognized the importance of family child care when the Legislature established protections for family child care homes in communities through the Child Day Care Facilities Act (CDCFA). But the law has not kept pace with our needs, and loopholes have caused uneven application by cities, burdensome local regulations, and a lack of housing protections. SB 234 will update the law by:
Requiring local governments to treat large family child care homes the same as small family child care homes – as a residential use of property in their local ordinances;
Clarifying that licensed family child care homes may operate in apartments and other multifamily units while maintaining state fire and licensing safety requirements;
Clarifying housing protections so providers are not prohibited from living in a home solely because they care for children;
Clarifying that family child care providers may seek remedies under the Fair Employment and Housing Act if their rights under the CDCFA are disregarded.

Strong Start for Families Act (Mitchell): As of October 1, 2019, 12-month eligibility for child care can now be enjoyed by families receiving support through CalWORKs Stage 1 child care, like other child care subsidy programs. This will result in stable care for children and parents, allowing parents to participate in program activities, and for them to know their child can stay with the same provider for a full year no matter what happens in their own efforts to work or go to school or training. Find more details at the Child Care Law Center.

2019-20 State Budget Summary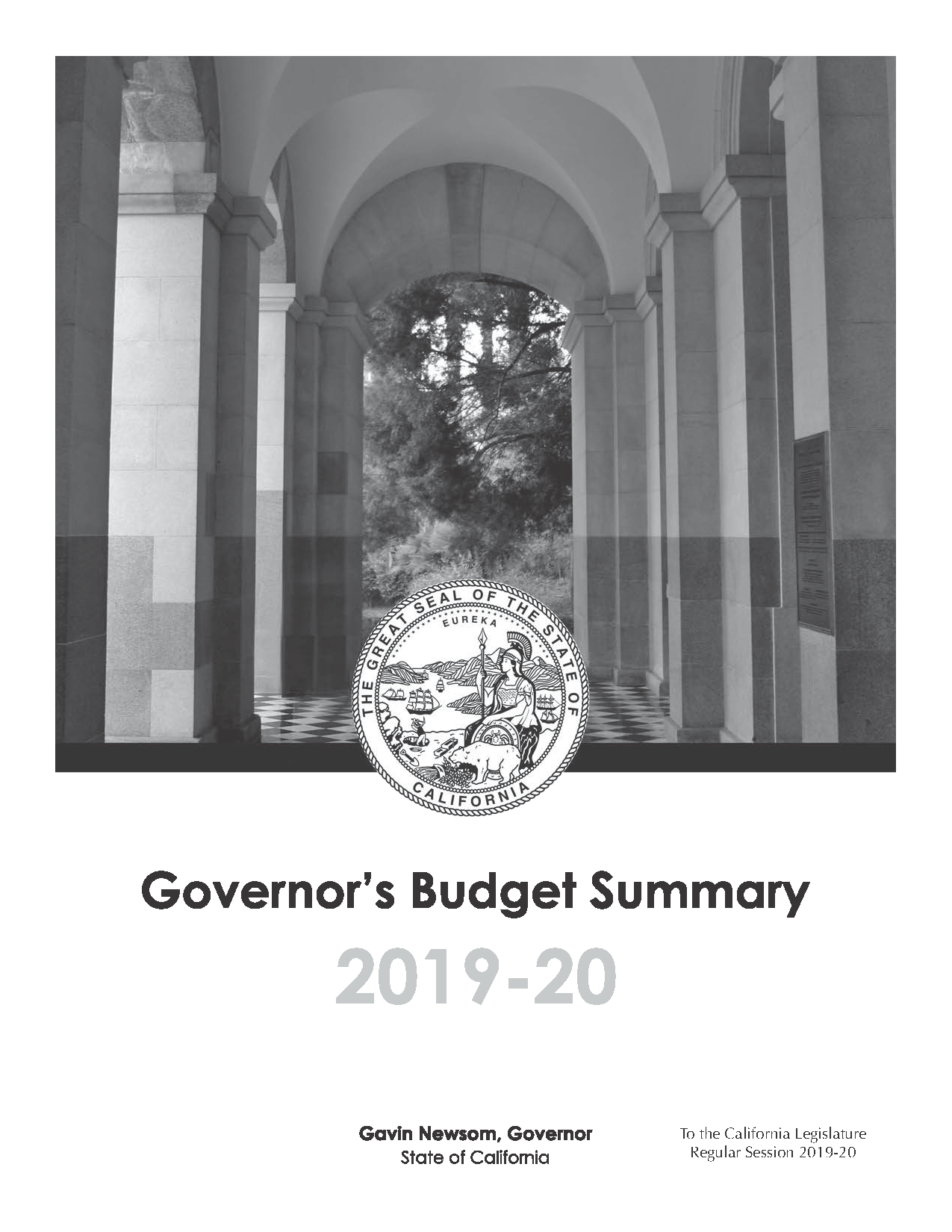 Governor Gavin Newsom unveiled his 2019-20 budget proposal on January 9, 2019, signaling a strong commitment to children, families, and the communities in which they live. He proposes 500 million one-time dollars to the child care budget, to go towards improving child care facilities, child care workforce development, and developing a plan to increase access to subsidized child care.

Download
10% increase of CalWorks grants: This increase is part of the End Childhood Deep Poverty campaign to make sure grant levels and other supports keep children and their families out of deep poverty. The maximum family grant for a family of 3 will increase from $714/mo to $785/mo, beginning April 1, 2019.
CalWorks Baby Wellness and Family Support Home Visiting Program: as discussed during the Regional Meetings, this program will be an opt-in opportunity for counties, similar to the Foster Care Bridge program. When counties opt-in, CalWorks families will have the opportunity to opt-in to the home visiting program. Home visiting models must be evidence based, and counties may choose to contract out the home visiting to organizations with qualified models. If you currently offer this program or have staff trained in home visiting models, we encourage you to reach out to your county social services department to see if they plan to opt-in and position yourself to be considered as the home visiting partner.
CalFresh Fruit and Vegetable EBT Pilot: $9m one time funding will allow families and individuals who utilize CalFresh to stretch their CalFresh dollars at grocery stores and markets, doubling their buying power of California grown produce. At least three grants will be made to non-profits or government agencies to test the supplement benefits mechanism in existing retailers.
Diaper Distribution: $10m one time funding will be available to non-profits to allow them to establish diaper banks for families in need of diapers. This is another opportunity we will keep our eye on so that you may be at the ready to become a diaper bank when funding becomes available.