2022 Virtual Joint Network/CAPPA Annual Conference: The Time is Now! Linking and Transforming Systems for our Children and Families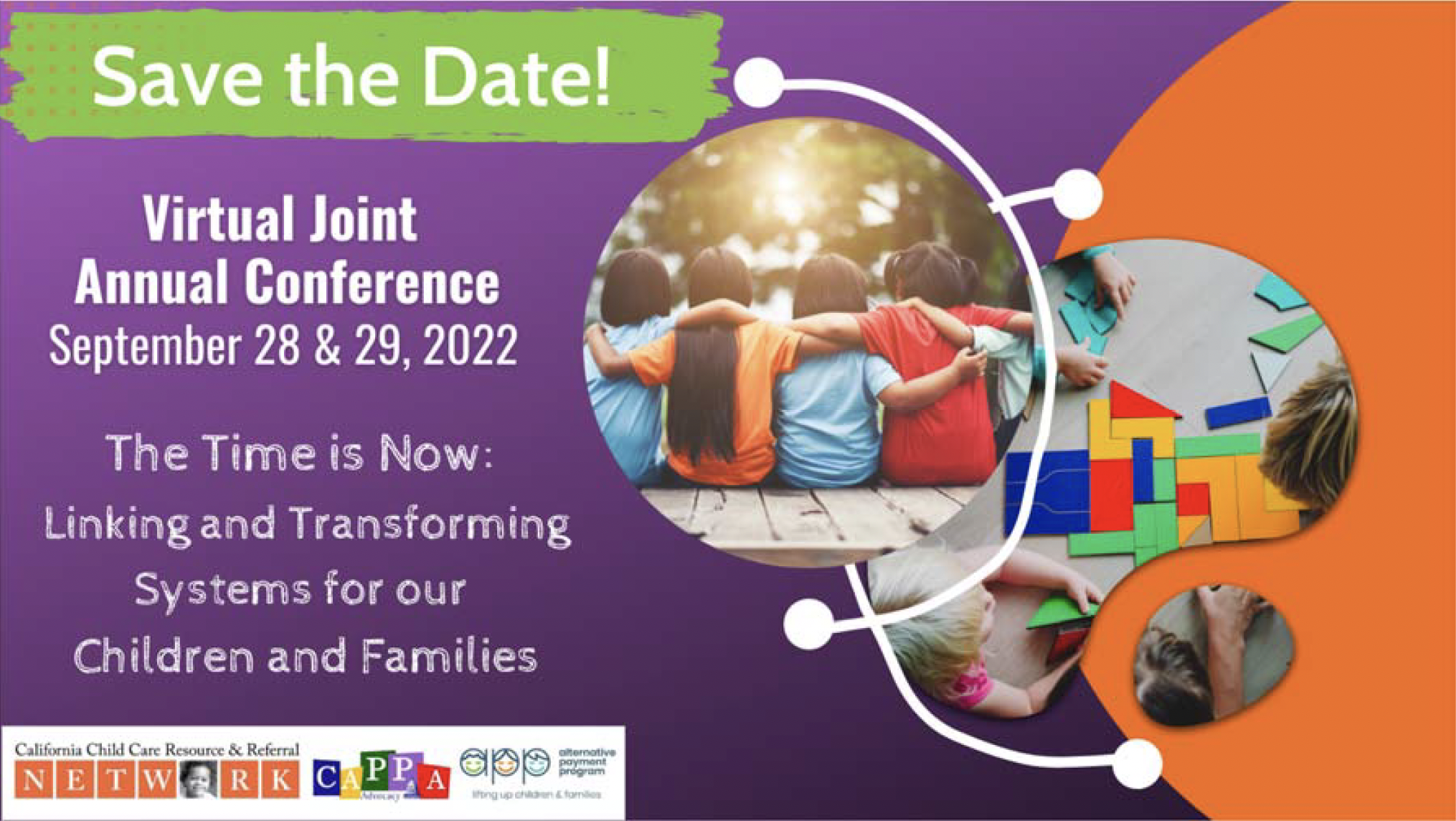 Virtual Conference Dates – September 28 – 29, 2022
The Time is Now! Save the Date and join your peers for an amazing virtual event! We will continue to miss being able to come together in‐person to share and gain information, and to meet and connect with colleagues and workshop presenters. We want to once again create a conference event that meets as many of our members' needs as possible through virtual sessions and workshops. We know how important it is for our community to stay connected, stand united, and continue to meet challenges together.
While we won't be able to meet in‐person, what we hope to offer in a thoughtful, user‐friendly manner, are keynote presentations, workshops, networking opportunities, and connection time with vendors. With no travel and flexibility, we look forward to new opportunities for R&R Network and CAPPA members from across the state, as well as state partners, joining us as we collectively support our children, families and
communities.

Registration Coming Soon


If you are a Network or CAPPA member and register 5 or more staff, you will receive a $15 discount off each registration.

Members:
$250 for 5+ staff (check)
$260 for 5+ staff (credit card)
$265 (check)
$275 (credit card)
Non-Members:
$400 (check)
$415 (credit card)
Conference fees may be paid by check or credit card. Credit Cards will be processed during online registration. Make checks payable to: CAPPA. Mail checks to: 2020 Joint Annual Conference, CAPPA 1451 River Park Drive, #185, Sacramento, CA, 95815.
Registration Fees

Conference registration fees for members will begin at $275 per person if 5 or more staff from one agency
attend or $299 per person. Conference registration includes access to 3 keynote sessions, over 60 workshops,
opportunities to virtually network with colleagues from around the state and connect with exhibitors.
Sponsorship/Exhibitor Opportunities
We are seeking sponsors for this year's conference both from our memberships as well as from corporations and businesses. Here is the sponsorship packet for member agencies. We hope your agency will consider supporting the conference by sponsoring a workshop, keynote or other activity this year.

In addition, we've linked the corporate sponsorship packet. If there are businesses in your community that you think might be willing to sponsor an activity at this year's conference or participate as an exhibitor, please share this packet with them.
If you have any questions, please reach out to Cindy Mall, Senior Program Manager, at 415-494-4642 or cmall@rrnetwork.org.

2022 Virtual Conference Sponsors